The arrival of summer always brings the sudden urge to throw our laptops and run outside, spending as much of our free time in the sun as possible. Even the indoorsiest among us would be so inclined to venture outdoors, to be up for anything that doesn't involve being confined to the walls of their homes.
But when it comes to any type of outdoor activity, choosing the right shoe is crucial — and in most situations, a towering platform or heeled mule just won't do. Enter the "dad sandal," a reliable standby for all things outdoorsy that's not only practical, but undeniably comfortable. They boast all the appeal of the chunky, "ugly-cute" styles that have had a stronghold on footwear trends over the last few years, all while offering the support you (and your arches) need.
We admit: Styling "dad sandals" — with their busy prints and in-your-face colors and countless straps — can seem intimidating at first. But this season's iterations lean more chic than "dad." See: Chaco's summer lineup. That's why we plucked five styles and pieced together cute-but-practical outfits for whatever your summer plans may be, whether that involves some light walking or, well, climbing up the side of a mountain.
Consider this your guide on how to seamlessly integrate dad sandals into all of your outdoorsy summer 'fits.
Hitting the trails
A dad sandal is a less clunky (and sweaty) alternative to a classic hiking boot, making them a solid choice for summer hikes. These boast adjustable straps to ensure the most secure fit, while the supportive sole will keep your feet in tip-top condition no matter how many miles you trek. And while this style is peak dad, the print makes for a trendy addition to your hiking ensemble: Pair with a sleek workout set, a bold fannypack to hold your essentials, and don't forget to bring a packable, waterproof jacket — you never know when you might run into sudden rainy weather.
Chaco Women's Z/1 Classic, $, available at Chaco
Girlfriend Collective Midnight Dylan Tank Bra, $, available at Girlfriend Collective
Girlfriend Collective Midnight Compressive High-Rise Legging, $, available at Girlfriend Collective
Mango Water-Repellant Jacket, $, available at Mango
Baboon To The Moon Fannypack, $, available at Urban Outfitters
Zara Basic Twill Cap, $, available at Zara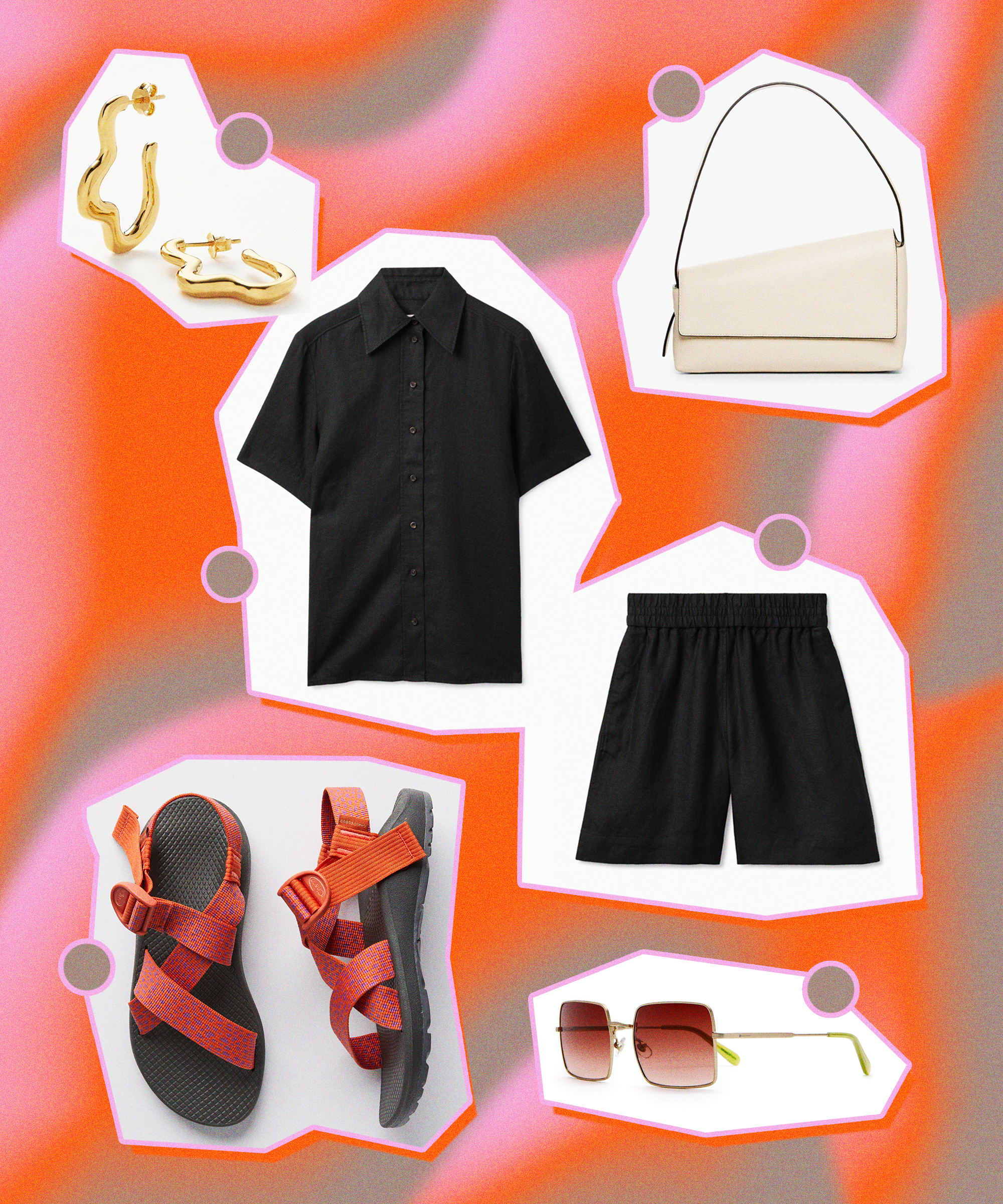 Exploring a new city
When checking a new city off of your bucket list, you're bound to do a serious amount of walking. Paired with sweltering summer temps, things are likely to get sweaty, too — may we suggest a breezy linen set that'll keep you nice and cool? Footwear-wise, we recommend having some fun in the print department, especially if the rest of your 'fit is neutral. Equipped with an extra-cushy sole, these neon sandals will keep sore feet at bay as you exceed your usual step count. Throw in some chic accessories, and you have yourself a look that'll seamlessly take you from sightseeing to dinner.
Chaco Women's Mega Z/Cloud, $, available at Chaco
COS Regular-Fit Linen Shirt, $, available at COS
COS Elasticated Linen Shorts, $, available at COS
Staud Acute Shoulder Bag, $, available at Staud
Crap Eyewear The Full Bloom, $, available at Crap Eyewear
Missoma Squiggle Wavy Large Hoop Earrings, $, available at Missoma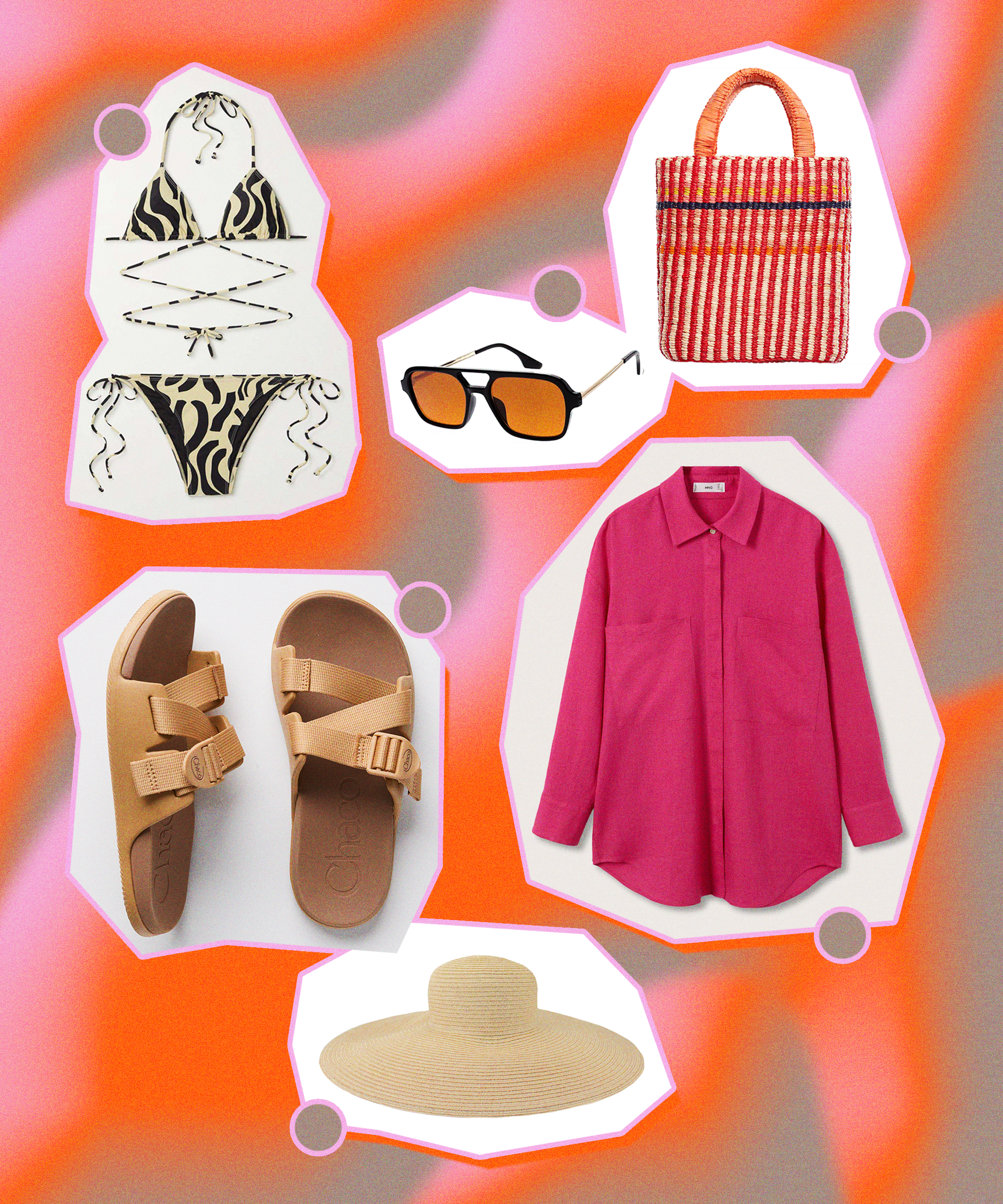 Vacationing by the beach
If your summer plans entail vacationing in a far-off, tropical destination, then chances are, you'll be spending most of your time at the beach (or poolside…or both). That said, a lightweight slide you can easily kick off is a key item to add to your packing list. A neutral-hued style will match anything and everything you squeeze into your suitcase, including a printed bikini or a vibrant coverup. This pair features a soft sole and arch support, perfect for a shoreside stroll after a quick dip.
Chaco Women's Chillos Slide, $, available at Chaco
Faithfull the Brand Marzia Printed Recycled Triangle Bikini, $, available at Net-A-Porter
Mango Linen Oversize Shirt, $, available at Mango
Indy Ice Cube, $, available at Indy
Bagtazo Sister Sun Hat, $, available at Bagtazo
AAKS Delma Raffia Tote, $, available at Nordstrom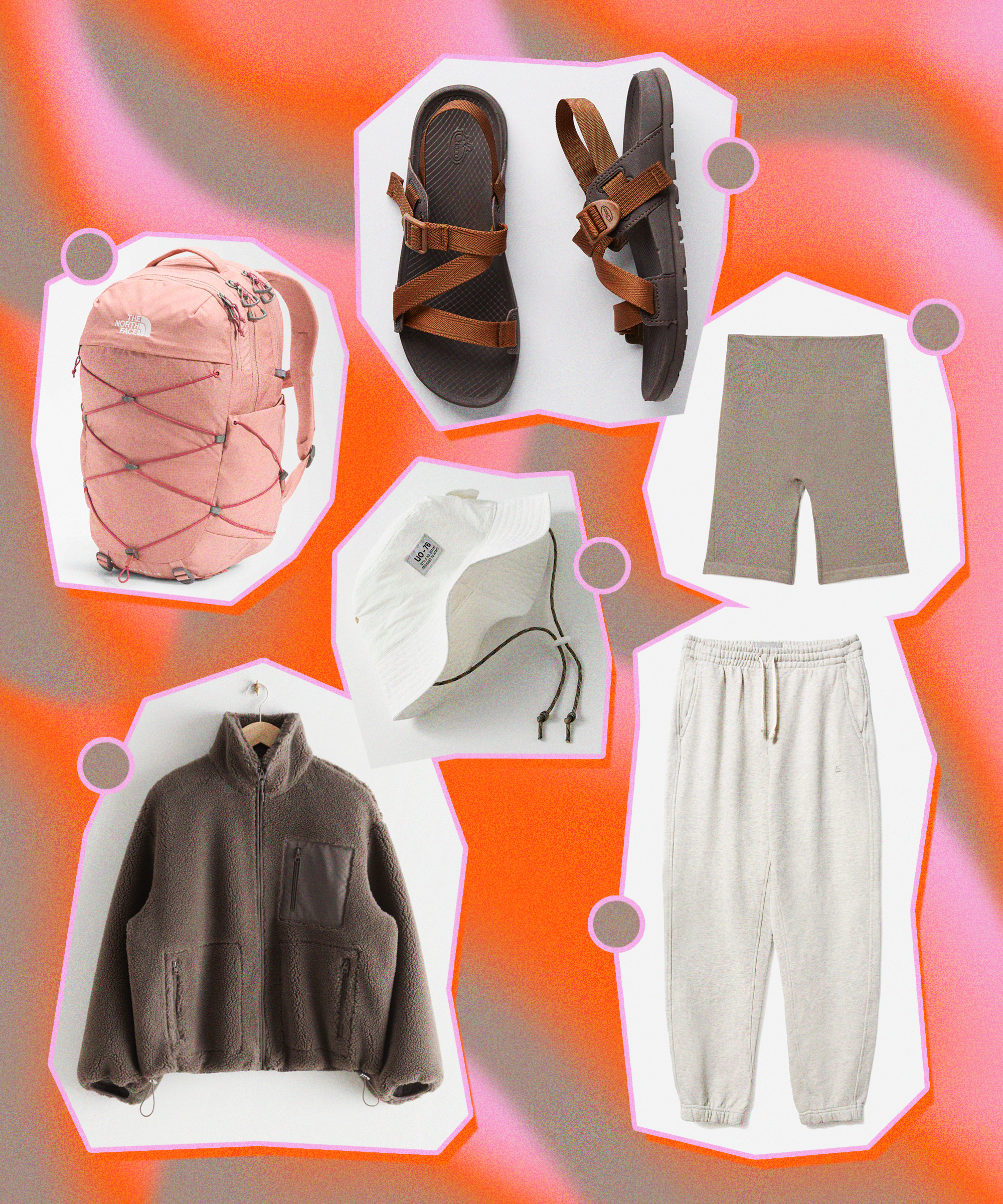 Spending the weekend camping — or glamping
Camping plans? Whether you're roughing it out in the woods or opting for a cushier glamping experience, a chunky all-terrain sandal with excellent grip is imperative for exploring your surroundings. Pair with comfy clothing made for moving, a backpack that'll hold all your gear, and a hat for extra sun protection. Don't forget to pack something warm and cozy for nighttime — it's bound to get chilly, even around the campfire. And if you really want to lean into the dad style trend, try throwing some soft, fuzzy socks into the mix.
Chaco Women's Lowdown Sandal, $, available at Chaco
Everlane The Seamless Bike Short, $, available at Everlane
Everlane The Track Jogger, $, available at Everlane
& Other Stories Boxy Pile Jacket, $, available at & Other Stories
The North Face Borealis Backpack, $, available at The North Face
Urban Outfitters Safari Pocket Bucket Hat, $, available at Urban Outfitters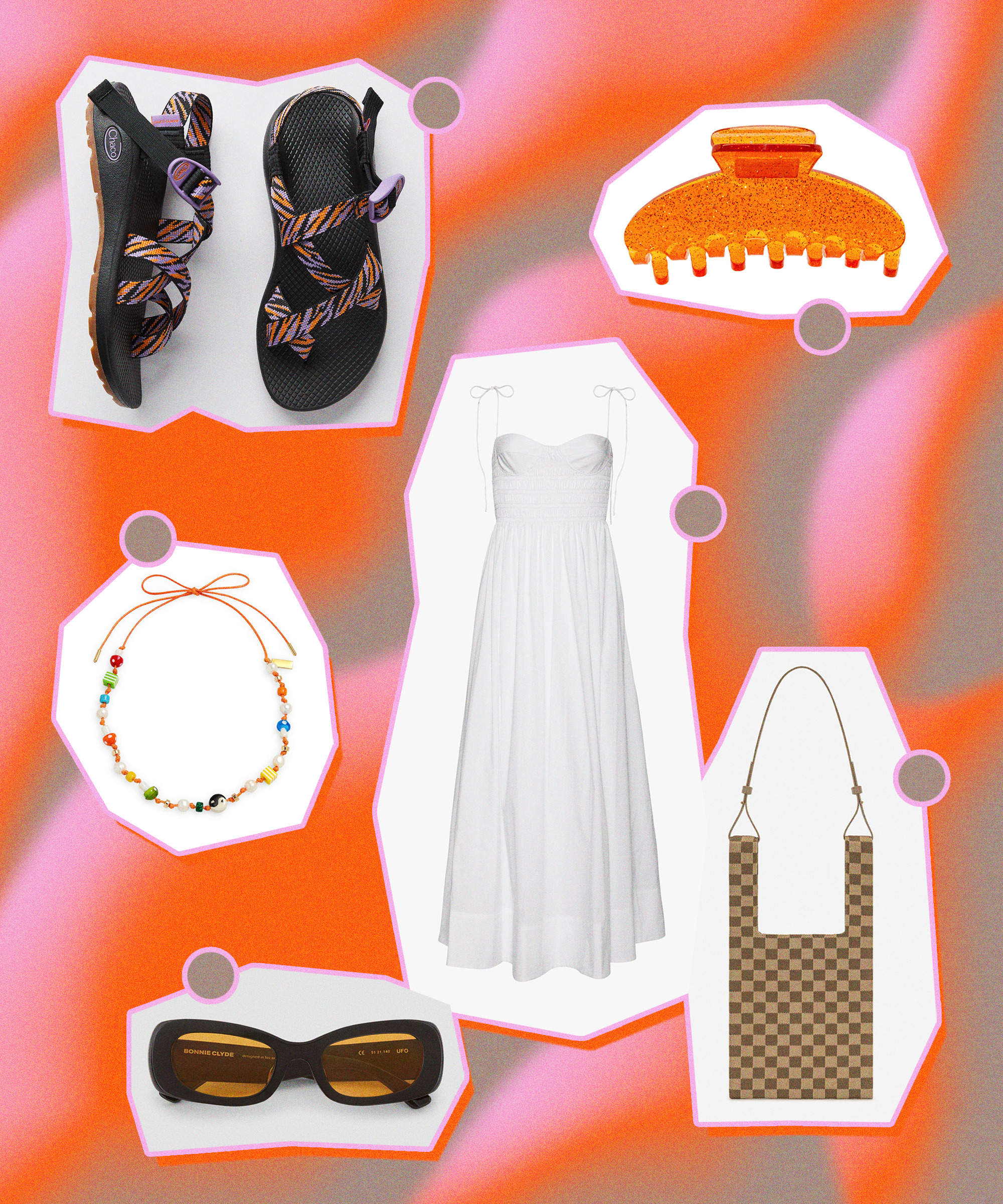 Picnicking in the park
Whether you're posting up in an urban oasis or somewhere with rougher ground (a national park, perhaps?) picnic dressing should prioritize comfort as much as style, especially when it comes to your shoes. A dad sandal with a lugged outsole will prevent you from slipping should you encounter some mud, while a cushioned sole will keep your feet happy as you hunt for the ideal spot to set up shop. Pair yours with a breezy sundress, a tote (for carrying snacks, of course), and some summery accessories, and you'll have yourself the perfect picnic ensemble — one that's cute and practical.
Chaco Women's Z/Cloud 2, $, available at Chaco
Staud Landry Dress, $, available at Staud
Éliou Keena Cultured Freshwater Pearl Beaded Necklace, $, available at Nordstrom
JW PEI Shea Checkerboard Knitted Tote Bag, $, available at JW PEI
Emi Jay Big Effing Claw Clip, $, available at Emi-Jay
Bonnie Clyde UFO, $, available at Bonnie Clyde
Like what you see? How about some more R29 goodness, right here?
Source by www.refinery29.com